This section is comprised of members of the A-Team.
Section III: A-Team was not one of the Founding Sections, but was one of the Original Sections during the founding of the UPC, which is how it came to be Section III. The A-Team section used to only have two members: John "Hannibal" Smith was President, and Templeton "Face" Peck was Vice President. However, a revote was taken, and Face was replaced by BA Baracus. When the proposition came through that four members were necessary for a section, Face was added again, and replaced BA as Vice President. BA became Secretary, HM Murdock was added as Treasurer, and Amy Allen was added as Presidency Assistant. Tawnia Baker became Backup.
This section contributes to the A-Team/Knight Rider/Control Army. The official weapon of this section is the gun.
Members List:
Edit
John Smith
(President)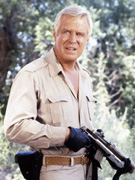 Templeton Peck (Vice President) (Representative)
BA Baracus (Secretary) (Former Vice President)
HM Murdock (Treasurer)
Amy Allen (PA) (Senator)
Tawnia Baker (Backup)
Ad blocker interference detected!
Wikia is a free-to-use site that makes money from advertising. We have a modified experience for viewers using ad blockers

Wikia is not accessible if you've made further modifications. Remove the custom ad blocker rule(s) and the page will load as expected.